Commercial property management services with All Service Building Maintenance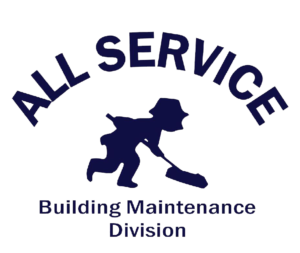 With over 50 years of combined experience, All Service can provide you with everything you need when it comes to indoor and outdoor building maintenance services for your commercial property. Our trained staff is one phone call away and can handle almost any problem that may arise. Use us to get that extra level of service you don't have available from your in-house staff by using us for special projects or to take care of your entire property.
Below is a list of the services we offer and how our company can eliminate all the headaches you might have with trying to find the right employee for the job at hand.
Outdoor building maintenance services:
Mowing services
Landscape bed weeding and general maintenance
Fertilizer and weed control services
Aeration
Shrub & Tree trimming
Sidewalk & curb edging
Spring & fall clean ups
Landscape edging
Landscape rock, mulch & sod delivered and installed
Seeding
Parking lot cleaning and repair
Snow removal services (limited Mpls area)
Ice control and removal
Snow stacking and hauling
Interior building maintenance:
1C boiler certification

Interior cleaning services include:

Trash removal/recycling and sorting services
General Floor clean, waxing, mopping, vacuuming
Rest room and locker room cleaning
General dusting and clean up services
24/7 service available

Light plumbing repair:

Faucet repair
Drain repair
Valve replacement and repair
Toilet replacement or repair
Leak repair

Minor electrical repair:

Switch repair
Light repair

General repair:

Ceiling tile maintenance
Painting services
All Services has been in business since 1994. Minneapolis Commercial Mower, our full service repair shop in South Minneapolis offers welding services and fabrication in all types of materials. We also have a complete woodworking shop that can repair doors, door frames, cabinets, furniture and many types of wood repair. We have a small engine repair shop that repairs all types of small engines and pumps. (Water pumps, hydraulic pumps and lifts, etc.)
All Services is fully licensed and insured to offer all the services on our menu. Our team is professional in all aspects of the job and maintains a professional appearance at all times. We take great pride in the work we do and it shows. Let us give you a free quote today on the needed maintenance for your property.